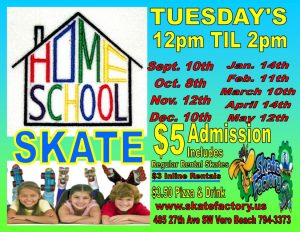 Home School Skate is back!!! It's the second Tuesday of every month from 12-2pm.

Calling all Star Wars Fans. Join us for great family skating fun on Saturday May 4th for our May The Fourth Be With You Star Wars Character Skate. So dress up as your Favorite Star Wars Character.

It's the last Home School Skate of the school year.

Check out this All Day Skate Just $5 for our Memorial Day Skate.
Thursday March 28th
9:00 pm – 12:00 am.
Admission is $7.00
18 and older only!