Skate Factory offers special group rates just for your youth group or church group. Whether your church group is made up of a crazy bunch of teens and tweens in the youth group, or your women's group is ready to get out and have a good time, Skate Factory is the place you'll want to be!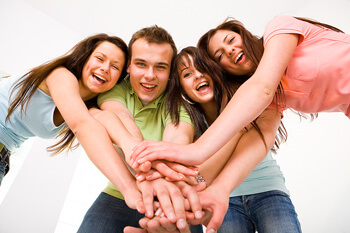 Monday nights we offer Christian music, and Wednesday nights we play Top 40 hits. Our group rates start at just $3 and include admission, skate rental, and a drink. Your group is welcome to join us during our hours from 6:30pm-9:00pm. If your crew would love to leave the dinner dishes up to us, then for $5 we'll make sure your admission, rental, and drink comes with a slice of pizza as well.
Looking for more than skating and dinner? Add another $2 for 10 game tokens. You can challenge each other at a game of SkeeBall or Air Hockey. Or you can race each other to the finish line with one of our racing games. Don't forget to take your tickets to our prize counter afterward and exchange them for a fun prize!
Come one, come all, come on out to Skate Factory and have a ball. There is plenty to keep your group occupied and active with roller skating, great music, and time together with your group. Fill our group reservation form and contact Skate Factory in Vero Beach to plan your church group's discounted outing.