You've seen the little yellow guys everywhere! You recognize them as the unmistakable Minions of Gru from Despicable Me. Saturday, February 8, Skate Factory will be invaded by Minions! We would love it if you would join our skating Minions from 10 am – 1 pm and again from 1 pm – 5 pm. We will have plenty of photo ops for you and our Minions. Come skate with us!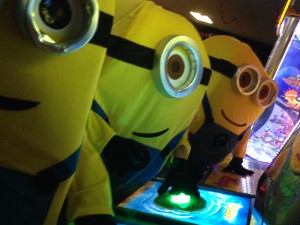 Love is in the air in the month of February! Join us on Friday, February 14, 2014 for our School's Out All Day Skate. Cost of admission is $7 and we're open from 10 am- 5 pm for our Red Hot Glow Skate! Come and celebrate the day with our Free Candy Scramble!
If our Red Hot Glow Skate doesn't meet your fancy, and you find yourself still looking for love, we have another Valentine's Day skating opportunity for you at Skate Factory! We have an All Night Skate from 7pm -6 am complete with games and prizes! Cost is $17.50 for the entire night, or you may choose to skate from 7pm –11 pm for $8. We hope to see you there!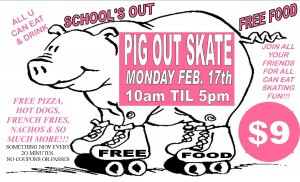 Have you ever been to a Pig Out Skate? We are open on Monday, February 17 from 10 am – 5 pm for our Pig Out Skate? The School District of Indian River County is closed for President's Day, but we'll be open! Bring a friend and join us for all you can eat pizza, hot dogs, French fries, nachos, and more! Cost is $9.
See more of our events on our events page! Make sure to follow us on Facebook, Google +, and Twitter to keep up to date on our latest happenings at Skate Factory.