We consider ourselves one of of the premier roller skating rinks in Florida. As a result, we keep our onsite proshop pretty well stocked, and if we don't have something that you need, weather it be skates, wheels, bearings, laces, or other accessories, we can get it for you in just a matter of time. While we've got a great selection in our onsite proshop, we wanted to share that we also have an online proshop. Feel free to click through and you will notice that our online Skate Factory Proshop carries just about anything your skater heart could possibly desire when it comes to skates and skating accessories.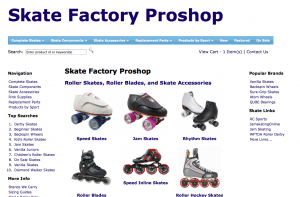 Check out our Skate Factory Proshop online and you'll notice that you can shop in several different categories. Maybe you are looking for a complete set of skates. We've got speed skates, jam skates, roller hockey skates, and more! Perhaps you are looking for components. We carry boots, plates, bearings, wheels, and toe stops. If it's accesscories that you are looking for, well wait no more! From skate bags, to roller hockey gear, to laces, and pom poms, we've got you covered! If you are looking for a hard to find color, size, or style, our Skate Factory Proshop online just made it no longer hard to find!
So whether you are near or far, if you can't make it in to our proshop, we want to encourage you to browse through our online offerings. While the Skate Factory is the place to be in the real world, we think the Skate Factory Proshop is the place to be on the world wide web!