Family Fun Deal at Skate Factory
Are you looking for something fun to do with the family in Vero Beach that won't break the bank? Have you been clipping coupons and pinching pennies? With our Skate Factory Family Deals, you don't have to! Skate Factory can help you maintain your family budget.
Tuesday Family Deal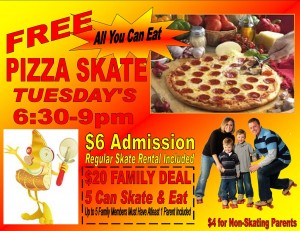 We offer a $20 Family Deal on Tuesdays at Skate Factory. For only $20 your family (of up to five) gets admission, skate rental, and pizza! This is amazing deal requires that at least one parent is included.
Wednesday is Cheap Skate Night
We are not calling anyone a cheapskate at Skate Factory, but do offer a Cheap Skate on Wednesday nights! Admission for our 6:30-9:00pm session is only $3. Regular skate rental is included for FREE! If you would like to rent speed skates or inline skates, that is only $3 extra!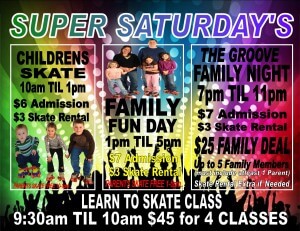 Super Saturday Savings
Who says you can't get something for nothing? Parents, you get to skate for FREE on Saturday's during our Children's Skate from 10:00 am-1:00pm! Admission for children is $6 and skate rental is $3. Admission is free if your child is signed up for our Learn to Skate Classes offered from 9:30 am-10:00am.
Parents also skate FREE from 1pm-5pm during our Family Fun Day Skate! Admission for your younger family members is $7 and skate rental is $3.
The Groove Family Night takes place from 7pm – 11pm on Saturdays! We offer a Family Deal for $25 at this time! This includes admission for up to five family members. Don't forget that at least one parent must be included.
Family Fun Day on Sunday
Skating is FREE for parents on Sundays at Skate Factory. We are open from 1pm-5pm for our Family Fun Day. Regular admission is just $7.
Make sure to join us for any of these great bargains. Contact us if you have any questions, and don't forget to follow us on Google +, Facebook, and Twitter!