Here at Skate Factory we are fans of being active and staying fit. We are heading into our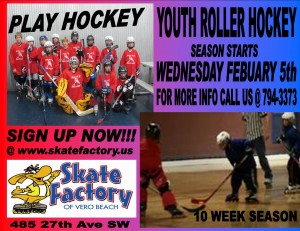 roller hockey season where our players not only have the opportunity to be active, but also to build on their roller hockey skills in Vero Beach. This allows them to also be a part of a team sport. There are so many benefits to team sports. Participants will learn to collaborate and communicate with one another while working toward a common goal and shooting goals at the same time! All around, the life skills and physical benefits from roller hockey make this a great sport! Not only will your child thrive with the life skills and physical benefits, but your pocket book will be spared the pain that comes with the high expense of other sports. Our roller hockey league is just $125 for 10 weeks! That's a bargain!
Are you ready to sign your player up? Great! You can register online. We will be holding player evaluations on the following nights for various age categories:

*Players must meet age requirement as of December 31, 2013.
*A minimum of 12 players is required for each age group
What about equipment?
Our roller hockey players will need the following equipment:
Hockey helmet with a face guard
Hockey gloves
Elbow pads
Shin guards
Protective cup
Mouth guard
We are anticipating games to be played on Sundays between 5-8 pm. Practices will be on Wednesdays or Thursdays between 5-6:30 pm depending upon the team your player is on. Each team will have one game and one practice per week.
We are in need of coaches and referees! Please contact us to let us know if you are interested!