Pig Out
Join us at Skate Factory for our pig out skate!
All the fun you can have, and all the food you can eat!
$9.00 admission get you in, and includes regular skate rental, skating fun, and all you can eat food and drink in the snack bar! If you haven't  been to one of our pig out skates, now you can see what all the excitement is about!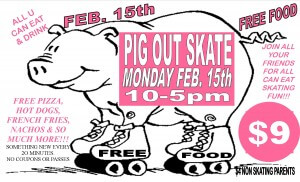 Non skating parents $4.00
inline or speed skate $3.00 extra