When you are at Skate Factory and you've skated so much that you feel like your legs might just give out, take a break in our arcade! Get your competition on with a game of SkeeBall with mom or dad, or have a sibling rivalry and see who can win a game of air hockey. Whether you win or lose doesn't necessarily matter because you'll be winning with the time you have spent with family and friends.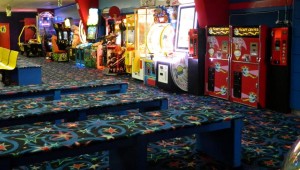 If SkeeBall or air hockey just are not up to speed with what you are looking for, then hop in the driver's seat of one of our racing games and see how fast you can go! Don't worry, you won't get a speeding ticket!
Maybe you are more of an expert with your hand and eye coordination. If so, then check out our crane game. You could be lucky enough to win a stuffed animal or any variety of prizes that the giant claw grabs and drops your way!
Whatever you choose to do while in our game center, make sure you carefully collect those tickets. You can take those tickets to our ticket center and get a ticket voucher with your grand total. When your time is up you can turn that voucher in for fun and playful prizes at our prize center.
Whether skating or not, our arcade offers more fun for all ages at Skate Factory in Vero Beach.