Location may be known as one of the most common rules of real estate, but did you know it applies to birthday parties too! In Vero Beach, we've got a location that just can not be beat for maximum birthday party fun! There is no need to worry about rain, heat, or humidity because our rink will allow you and your guests to stay cool and dry.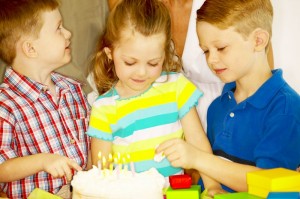 Not only is our location great, but a Skate Factory birthday party includes roller skating fun, and tasty treats for your guests. Even with all of this included, a birthday party at Skate Factory will not break the bank! Weekday birthday parties are just $99.99 for the birthday guest of honor and ten additional guests. This includes admission and skate rental, a choice of pizza, hot dog, or chicken nuggets, popcorn, soft drinks, game tokens, and birthday party invitations. Additionally, you won't have to worry about decorating because our parties also include the table settings with balloons. All you have to do is provide the birthday cake (or cupcakes) and ice cream if you'd like. Weekend parties vary just a little and include the same items; make sure you visit our birthday party page for more details regarding party slots that are available.
Large Birthday Parties
If your guest list includes more than a few close friends, consider one of our Private Party packages. The rink will be yours and yours alone for 2 hours of skating. If your birthday party list is less than fifty, then The Works package might be just right for you. And, if our location happens to be where you want to throw your next bash of up to 150 people, then The Crew package will work for you!
Whatever size party you are looking for, we can assure you that a Skate Factory birthday party will be full of fun and memories.
Contact us today to book your next birthday party at Skate Factory.