Do you love to skate? Are you looking for a fun family activity? Perhaps you are looking for a way to keep you and your little ones healthy and in shape while having fun. Those may be reasons to get your little one out on the skating floor with you at Skate Factory!
We offer skating classes for skaters that are just beginning and for those that are skating at a more advanced level. Our beginner skaters will learn basic skating skills such as starting, stopping, backwards skating, and turning. Our more advanced skaters will build on those basic skills with crossovers, different stopping methods, and advanced turns.
Skating classes are on Saturday mornings from 9:30 am – 10:00 am, and your child can learn to skate using inline skates or quad skates. Classes are just $45 for four sessions and include admission to the 10:00 am – 12:30 pm skating session.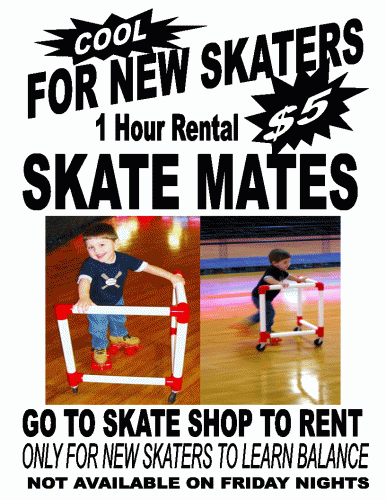 For your convenience, Skate Mates are available for our new skaters. Rentals are available during most of our sessions. In addition to using a Skate Mate, we have found an article on teaching young ones to skate with helpful tips. In particular, we thought it was good advice to allow parents to skate behind their child and hold them under the armpits to help support them.
If you are interested in skating classes for your child, or looking for a fun activity to keep your family in shape, make plans to join us this Saturday at Skate Factory in Vero Beach! Don't forget to follow us on Google +, Facebook, and Twitter!