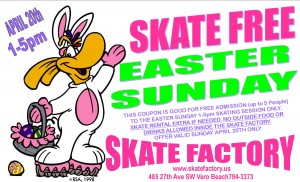 When you think about Easter, what traditions do you think about? Many people associate Easter Egg hunts, the Easter Bunny, Easter baskets, and jellybeans with their Easter traditions. At Skate Factory in Vero Beach, we think about skating all the time! This means that it is only natural for us to open up our rink and offer an opportunity for a new tradition for your family. Why not add roller skating to your family traditions and join us for an afternoon of skating on Easter Sunday?
Admission is free for up to five people with our coupon on Easter Sunday! Skate rental is extra. This is a great way to help encourage physical exercise for your family. We think this is a great way to help work off the mashed potatoes and ham that you might have for a traditional easter dinner. It may even help to work off that chocolate bunny since roller skating burns about 330 calories (for a 143 pound individual) after about an hour of moderate skating.
Make sure that you mark your calendars for Easter Sunday on Sunday, April 20, 2014 for our 1:00 pm – 5:00 pm skate! We want to help you and your family make new traditions and celebrate time together on this Easter Sunday.
Follow us on Facebook, Twitter, and Google + for other news, updates, and special events that will be taking place at Skate Factory.