Hey group activity coordinators, have we got news for you! Group activities at Skate Factory are awesome! We offer group packages for groups of all shapes, sizes, ages, and for numerous reasons. Whether you are looking for a corporate outing, a team building experience, a fun time to hang out with the youth group, a science field trip that focuses on physics and motion, or a group activity trip for day camp or summer camp, we are well equipped to meet your needs. You can enjoy the fun as your group practices balancing on wheels.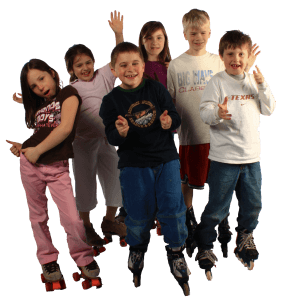 We still have openings available for day camp and summer camp group activity outings. It's not too late to book with us, but we suggest that you don't wait too long as our spaces are filling up. Make sure you use our Skate Factory Group Reservation Form and contact us if you have any questions.
It is sad, but true, the summer will be here and gone before we know it. Now is a good time to start looking at group activities that you may be interested in for the Fall.
Group Activities for School Groups
We've found that Skate Factory is a great place for school field trips. Whether your school group is interested in celebrating honor roll, perfect attendance, or studying physics in action, Skate Factory has a lot to offer. We are able to accommodate school groups of less than 30 to more than 100!
Group Activities for Corporate Outings and Team Building
Not only do we gladly accommodate school groups, but we have seen a recent rise in a trend for businesses to address a work and life balance. Small businesses and teams have enjoyed spending time at our rink. Balancing on wheels is a great way to help motivate people to participate in team building group activities and to remind people of that ever important work/life balance.
Skate Factory can adjust and accommodate to help clubs, scouts, groups, small businesses, and school with their group activity needs. Make sure you visit our groups page for more information. Please contact us if you have any questions or would like to schedule your next group activity.